Name of Character~ Alice Cullen
Nickname(s)~ None as of now
Character's Birthday~ 18th March
Age of Character~ 19 [Actual Age: 108]
Species~ Vegetarian Vampire
Appearance~ Alice has beautiful golden colored eyes when she has hunted, but they are a hard black when she is thirsty. She has inhuman beauty; pale skin and perfect features. Her brown hair is cropped short as it spikes out.
Pictures~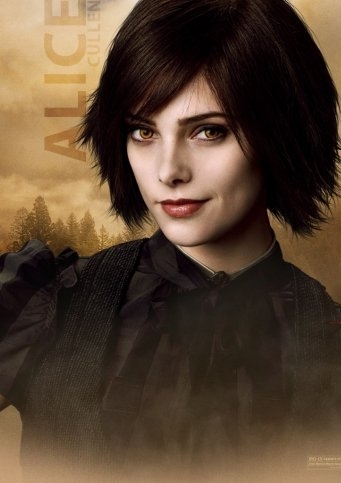 Personality~
Alice has a very outgoing personality. She is fun when the time is appropriate and serious when the situation calls for it. She is very friendly and isn't afraid to meet new people. Alice is a shopaholic and is very fashionable. She is a very open person and is not shy on sharing her feelings or personal opinions. She is helpful when she can but she also understands when it's time to stand back and let others take care of things.
History/Background~
Alice's early history is very vague, as she remembers nothing of her human life and woke up alone as a vampire. It is eventually revealed by a video, that she was born around 1901 in Biloxi, Mississippi. Her parents placed her in an asylum when she was 19 because she claimed to be having premonitions. One of the doctors in the asylum ended up turning Alice into a vampire just days after she was admitted, because she was being hunted by a tracker named James. James ended up killing the doctor, therefore leaving Alice on her own when she awoke from the three day transformation process. Her special ability is to see the future, an enhanced version of her ability to have premonitions as a human. However, her ability is limited; she is only able to see the outcome of a decision once it is made. Due to this, decisions made in the spur of the moment cannot be foreseen. Alice can see futures involving humans and vampires, but is unable to see those of werewolves or half-breeds. Alice had a vision of the Cullen Coven and their "vegetarian" way of life and decided she would join them.
Alice left her family to go to the Academy of the Night. While there she met new friends including: Horril, Ember, Vladen, and Melanie. She kept up with her studies and made sure that she hunted regularly. It was at the Academy that Alice started struggling with an inner demon. She was loosing control of herself and her actions. After attacking Vladen, Alice returned home to the Cullens so she could fix herself. Alice has tried to use her power as little as possible since the attack on Vladen, but sometimes she slips. When she returned to the AON, Melanie asked Alice to move to Sheinara so she could be the godmother to Mel and Vladen's twins. When Mel and Vlad moved to Obsidian, Alice went with them.